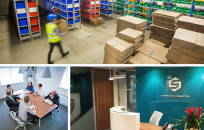 Subsea Supplies is an independent company supplying equipment to the ROV, AUV, oil & gas, oceanographic and defence arenas. Our partners are leading manufacturers of proven subsea products.
Extensive stocks of components are available for immediate dispatch. A 24-hour service is provided for those urgent requirements that arise outside normal working hours. In addition, products can be ordered through our online store (account required).
Our industry-respected partners for subsea supplies in the United Kingdom include Cooper Interconnect (Burton Subsea®), Nexans Norway A/S, Masto Wire-Service A/S, Sun-Star Electric and AK Industries.
We also supply cathodic protection anodes, Clear-Com® intercom systems, AquaShield underwater lubricant, ROV umbilical cable grease, and other ROV-related equipment.